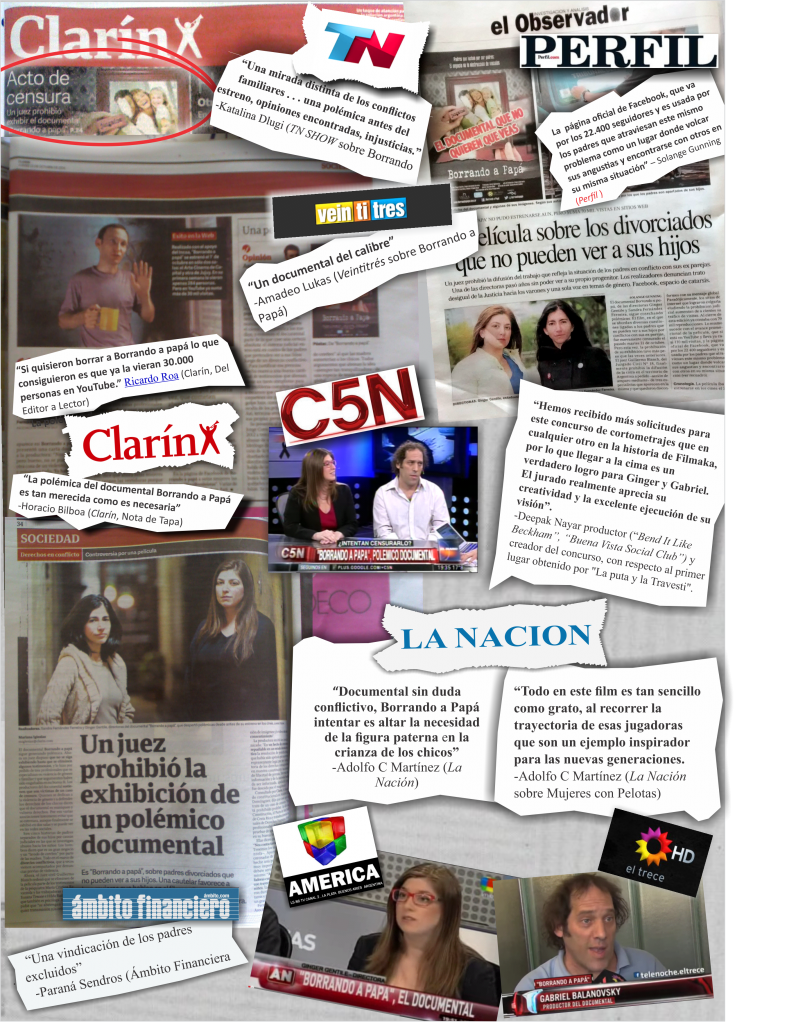 Ginger Gentile´s films get noticed the world over. In Argentina, where most of her work was done, she has been on all of the major news networks discussing her films, on more than 30 radio talk shows and in numerous newspaper articles–including a front page headline. Her work and production company, San Telmo Productions, has been the subject of many articles from Hollywood and London based publications. This is because her films dare to go where other filmmakers won´t–be it a slum or a controversial topic like child custody–and her films have built in social media and press campaigns. Getting the audience to reflect is not enough, they must be moved to take action.
Here are some news selected news in English:
http://www.thelocationguide.com/blog/2011/12/filming-in-argentina-with-assistant-director-ginger-gentile/ Location Guide spotlights San Telmo Productions
http://www.santelmoproductions.com/images/Produced_by.pdf The official magazine of the Hollywood Producers' Guild highlights San Telmo Productions and Argentina
http://www.argentinaindependent.com/culture/balives/ginger-gentile-film-producer-/ Interview with Ginger Gentile for Expat Daily News
    We received more submissions for this short film competition than any in Filmaka history so rising to the top is really an achievement for Ginger and Gabriel of San Telmo Productio
n
s. The jury really appreciated their creativity and excellent execution of their unique vision."
–Filmaka co-founder, independent film producer Deepak Nayar (Bend It Like Beckham, Buena Vista Social Club), on first place win of "The Hooker & the Transvestite". Read more about this win here
Reviews in English of "Erasing Dad" (Borrando a Papá).
Released in 2014, it made front page news in Argentina when it was censored by a civil court judge. The Facebook page has more than 30,000 followers.
"The men's stories are sensitive and thought-provoking, and giving fathers a voice is unquestionably the force of this documentary."
– Wendy Gosselin, Argentina Independent, September 29th 2014: http://www.argentinaindependent.com/socialissues/erasing-dad-a-review/
October 10th, 2014 Bubble Pod Cast:  https://soundcloud.com/radioledonline/the-bubble-01-10-10-2014-radio-led-podcasts
Released in 2014, it was shown in more than 15 movie theaters, a dozen film festivals,  and has been used by more than 70 universities, including Columbia, Princeton and Duke.
"Offering a reminder of the global nature of gender inequities in sports, this is recommended." 3 out of 4 stars.
-Video Librarian Review, July-August 2015 http://www.videolibrarian.com/
"Goals for Girls is a skillfully shot documentary that scores big time when it comes to addressing a largely ignored theme that could use much more exposure."

– Pablo Suarez: http://www.buenosairesherald.com/article/158885/women-with-balls-scores-big-time-onscreen-
"This fast paced film offers more than just a football game for everyone."  7 out of 10."

-Kekena Corvolan: http://www.leedor.com/contenidos/cine/mujeres-con-pelotas-en-el-bafici2014
"With humor and colorful imagery, this documentary explores what it takes for girls to score goals on the field and reach their life goals when their families and society sees them only as future maids, criminals or teenage mothers."  
 -http://www.kickingandscreening.com/blog/2010/11/setting-goals-for-girls-argentinas-1st-all-female-soccer-club.html
"Goals for Girls dives into an absorbing discussion about women's football in Argentina."
-Marc Rogers: http://www.argentinaindependent.com/the-arts/film-culture/out-now-mujeres-con-pelotas/
"These girls have some serious stones to stand up to the football ideals that are so heavily entwined with Argentina's histories and traditions."
-Noah Beaudette: http://bubblear.com/women-with-balls/
"Goals for Girls" was one of the 4 films selected of this initiative of the Sundance Institute and Britdoc that brings together docs with support from the private & public sector:  https://goodpitch.org/events/gpba2013 
http://www.documentary.org/magazine/good-pitch-latin-style
http://www.bytowne.ca/movie/goals-for-girls-a-story-of-women-with-balls